Lowest Cost Engraving
Create and preview your memorial in real-time with our exlclusive urn designer. 100% free - try it by clicking this button on any product.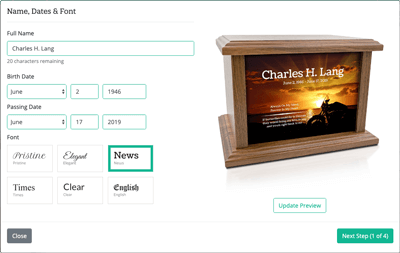 BBB Accredited
"A" Graded BBB Member you can trust. We have an unwavering commitment to our customers satisfaction.
Guaranteed Turn-Around
Lightning fast turn around. Products ship same or next business day. Ground or express services available.
Lowest Cost Engraving
Higher quality and lower cost engraving at a fraction of our competitors cost. Always free engraving previews.
Choosing The Right Size Urn
You have the right to choose your loved one's cremation urn. Your rights are protected by federal law, and nearly all funeral homes will graciously accept your choice.
To learn more about the details of the rights you have regarding ashes and purchasing memorials read more about your rights with ashes.
First Time Shopping Online?
Shopping online for memorials is the smart choice. Online retailers offer more product choices, engraving options, and value than anyone else.
Not all online retailers are created equal. We used our industry expertise to create a list of the top 10 things to consider when buying a memorial online.
Frequently Asked Questions
Our most frequently asked question is also the easiest to answer. "How long does it take to create a proof for engraving?" No time!
We use the image of the memorial you design, and we begin creating your memorial after checkout. Frequently Asked Questions.