TSA, Airlines and Urns
"Can I fly with this cremation urn?" is a question that we frequently are asked.  There are many circumstances when you will need to take the remains of your loved one on a domestic flight.  Before you leave for the airport to catch that flight, you should be very clear on the regulations to follow so that you can travel with confidence.  Yes, flying with remains is a common occurrence but how the remains and urns are packed makes all the difference.
TSA Regulations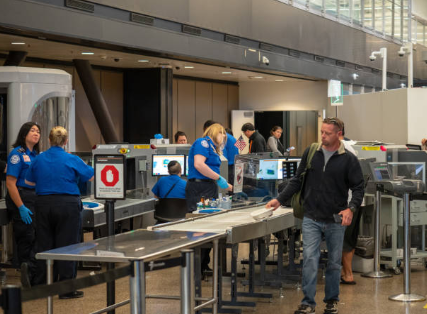 Before you can board your flight, you must first pass a TSA Inspection.  Critically, your container must be able to scanned fully using an x-ray machine.  This is impossible for a metal cremation urn.  For this reason, the TSA recommends for any urn that will be flying to be made out of wood or plastic.  Our wood cremation urns work well for this.  Additionally, if you keep the shipping box that too fits inside most carry on luggage, giving the urn an extra layer of protection during transit.
Strongly consider carrying the remains of your loved one separately from the urn.  Here is a story right from a family who purchased a keepsake memorial but reached out to us before flying.  I had recommended she keep the remains separate and the lid off the keepsake.  Here was her experience, quoted with permission:
First thank you for your kindness. I failed to tell you the urn is perfect. I'm headed to Mississippi to take my Dad home for the last time and wanted my aunt to have a bit of him to keep near her. I decided to go the paranoid route and left the urn empty. It was the right move. I still had to be pulled aside for special pat down and the ashes were put through the machine twice. In the end it could have been worse. Had I had to make a decision about leaving the urn behind would have gutted me.
I had given her the advice above - that the safest way to travel was with them separately.  The biggest catch, as described below, is that the TSA will not open a closed urn and will turn you away - or force you to leave the urn behind to proceed.  This adds stress to navigating the airport, which many already consider stressful enough.
One important note is that if they cannot successfully x-ray the container, the TSA will not open it for any reason including your request for inspection.  This could cause you a major inconvenience such as missing your flight.  TSA rules can be found here.
https://www.tsa.gov/travel/security-screening/whatcanibring/items/cremated-remains
Flying with Green Meadow Memorials Urns
We have personally successfully flown with a wood urn and an individual sized metal cremation urn without issue, along with a handful of different keepsake cremation urns.  TSA Agents indicated they may swab the exterior of the urn, but assured us that flying with remains was a regular occurrence.  It is wise to keep your urn in the box we mail it to you in for transport in your luggage so it arrives in perfect condition.  The main issue with this is that this can create a scenario where your carry-on bag is a bit over sized.  Carefully consider the availability of overhead storage space so that your bag with the cremains is not gate checked.
Airline Human and Pet Remains Regulations
Many airlines have their own guidelines.  A nearly universal guideline is the suggestion/requirement to have a death certificate along for the journey.  Here are the regulations for the four largest US Airlines and others as we learn more:
Delta Airlines requires a death certificate and allows for checked or carry on transport so long as it passes the TSA inspection requirements.
American Airlines does not require special documentation but may treat your urn as your carry on bag.
Southwest Airlines will not allow for your filled cremation urn to be in checked luggage, which makes passing the TSA carry on bag screening even more critical.
United Airlines will also not allow for your cremated human remains to be checked.  They also suggest carrying a death certificate during your travels.
Spirit Airlines currently allows for human and pet remains to be transported in carry on or checked luggage.  However, they are very specific that any containers that are used must X-ray screening compatible.
If you are unsure of what to do or want further clarification, it is important you reach out to the airlines directly to get the most up to date information and guidance possible.
Other Options
If you have received your love one from the crematory and are now shopping for an urn, you very likely already have a container that is sure to pass the TSA inspection if it is made from cardboard or plastic.  This can be your container for travelling and you could place your cremation urn, left open in case of inspection but secure in it shipping box, in your checked luggage.  Additionally, you could choose to have the urn directly shipped from us to a family member, friend or funeral professional in the area you are travelling to and transfer the ashes at your destination.
Don't forget you may also need to pack clothes for a memorial service. It is safe to travel by air with your loved ones remains with a little preparation.