Selecting the Right Size Urn
What size cremation urn do I need?
This is the most common question we are asked every day.  These questions come from concerned parents, siblings, children and friends who are all trying to make sure they don't make a mistake when shopping online for a cremation urn for what is likely the first time ever.  At Green Meadow Memorials we strive to clearly mark every memorial that we offer so that anyone can feel confident about the memorials they are choosing.   As you browse our website, you will see the following terms on every memorial.
Urns Sizes, Explained
If you search enough on the Internet, you might grow concerned that it is hard to find the "right sized" urn.
At Green Meadow Memorials we've used our industry experience to make this easy for you.
Individual Urns are sized to contain all of the remains of any adult. This is a full-size urn and the same sized memorial as a funeral home would provide.
Keepsake Urns are mini memorials that hold a very small portion of a loved one's ashes and are meant for sharing or keeping near you. Fitting into the palm of your hand, keepsake urns are about 3" tall and hold remains measured in tablespoons.
Sharing Urns are significantly larger than industry standard keepsake urns and allow for more detailed artwork and larger text to be engraved. Measuring about 6" tall sharing urns hold remains measured in cups.
Following these guidelines will ensure that you have the right sized memorial for you loved one.
Do you have a picture of the different urn sizes?
Yes, we created this graphic that you will see on our memorials across the site that will help you visualize the different sizes we offer.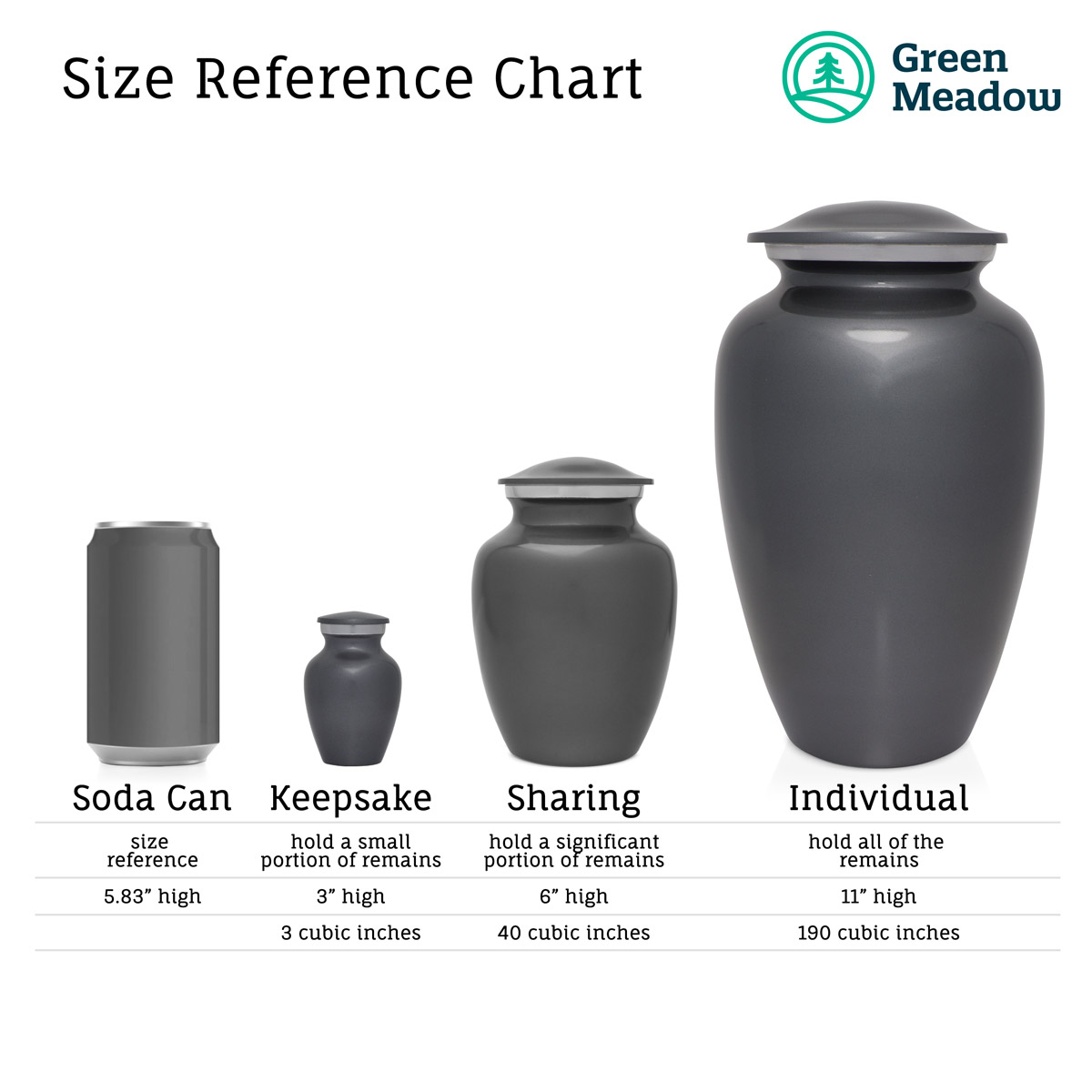 Keeping it simple allows for worry free shopping and allows for a consistent canvas for your special engraving and personalization.
Sizing by the Numbers
Green Meadow Memorials offers more detailed sizing information if you desire it as well.  Reach out to us via chat, email or phone and we will be happy to give you a straight answer about which urn size or sizes are best suited to your goals.  We base on our advice on feedback from families, our industry experience and the guidance of the professional organizations to which we belong.
The Cremation Association of North America established standardized sizing in with a study in 1985 that indicated that the vast majority of the deceased reliably fit into containers of 200 cubic inches.  The entire industry standardized around this finding, which is why the vast majority of our metal individual urns are right around 200 cubic inches in size.  This information is presented along with the sizing categories in the bullet point specifications found on each urn listing.
A simple truth to urn sizing is this: what you receive of your loved one after cremation is mainly bone powder.  The water and everything else is removed by the cremation process so their weight is really less of factor than their build.  The sizing guidelines from CANA mentioned above are sized generously for the vast majority of people, meaning an Individual sized urn will easily work for 99.999% of those who are cremated.
If your loved one was exceptionally sized being remarkably tall or large of frame (weight is not as important of a consideration, as explained) we suggest choosing any of our wooden cremation urns as they are significantly larger than our metal cremation urns at around 240 cubic inches and feature much larger openings to place the remains into.  This suggestion is for peace of mind and ease of transferring the ashes into the new urn. 
At Green Meadow Memorials you can shop with confidence that our urns will fit your needs.