What size pet urn to choose?
There are many different pet cremation urn sizes out there, and the variety can make things confusing.  Additionally, pet cremation differs from human cremation so you cannot reuse all the same assumptions.   In order to keep things simple, there is a formula you can use that will ensure the urn that you get is large enough without being very oversized is this:
1 Pound of healthy pet weight = 1 cubic inch of urn space required
Do not sweat it too much if you do not know the exact weight of your dog before cremation, and it is even easier if your pet was a cat and here is why.
Cats are going to fit in small urns.  My cat Leo, who was in the 13-15lb range requires right at 15 cubic inches of space in his urn.  Because there is not a reason to have urns that are smaller than 30-40 cubic inches, you can feel confident that pet urns that are advertised as small will work.  Small pet urns at Green Meadow Memorials measure at 40 cubic inches, minimum.
When it comes to figure out what you should do for your dog cremation urn sizing, it is straightforward to search the average weight of a given dog breed on the Internet.  For quick reference, many dogs like terriers, brittanys and any smaller breeds are also going to use small pet urn.  
The next size step is likely to be the most common for dog owners and that is the Large pet urn.  At Green Meadow Memorials, the minimum size of the Large pet urn is 100 cubic inches, which makes it suitable for dog breeds up to 100 pounds.  This includes breeds like Golden Retrievers, Labradors, German Shepherds and dogs of similar size.
For the largest Pets, there is the Extra Large pet urn that typically holds 190+ cubic inches and is suitable for all dog breeds and nearly all pets.  Even though there are not that many dog breeds that need this extra sized urn, it is a popular size for dogs of all sizes because of the additional room that it has for items such as collars or favorite toys.  Additionally, the Extra Large size allows for the largest engraving space as well. Dog urns truly come in a multitude of sizes to meet the needs of all breeds.
Best Selling Pet Urns
Do people really buy pet urns?
Pet urns are a quite common part of the grieving and remembrance process that all pet owners experience. In a nationwide survey conducted by Green Meadow Memorials, most current and past pet owners indicated that they had or were considering buy cremation urns for their pets.  Extrapolating that data and it's clear that there are millions of people that are also looking for fitting memorials for their pets every year and that this is one of the reasons that such a diversity of options is available.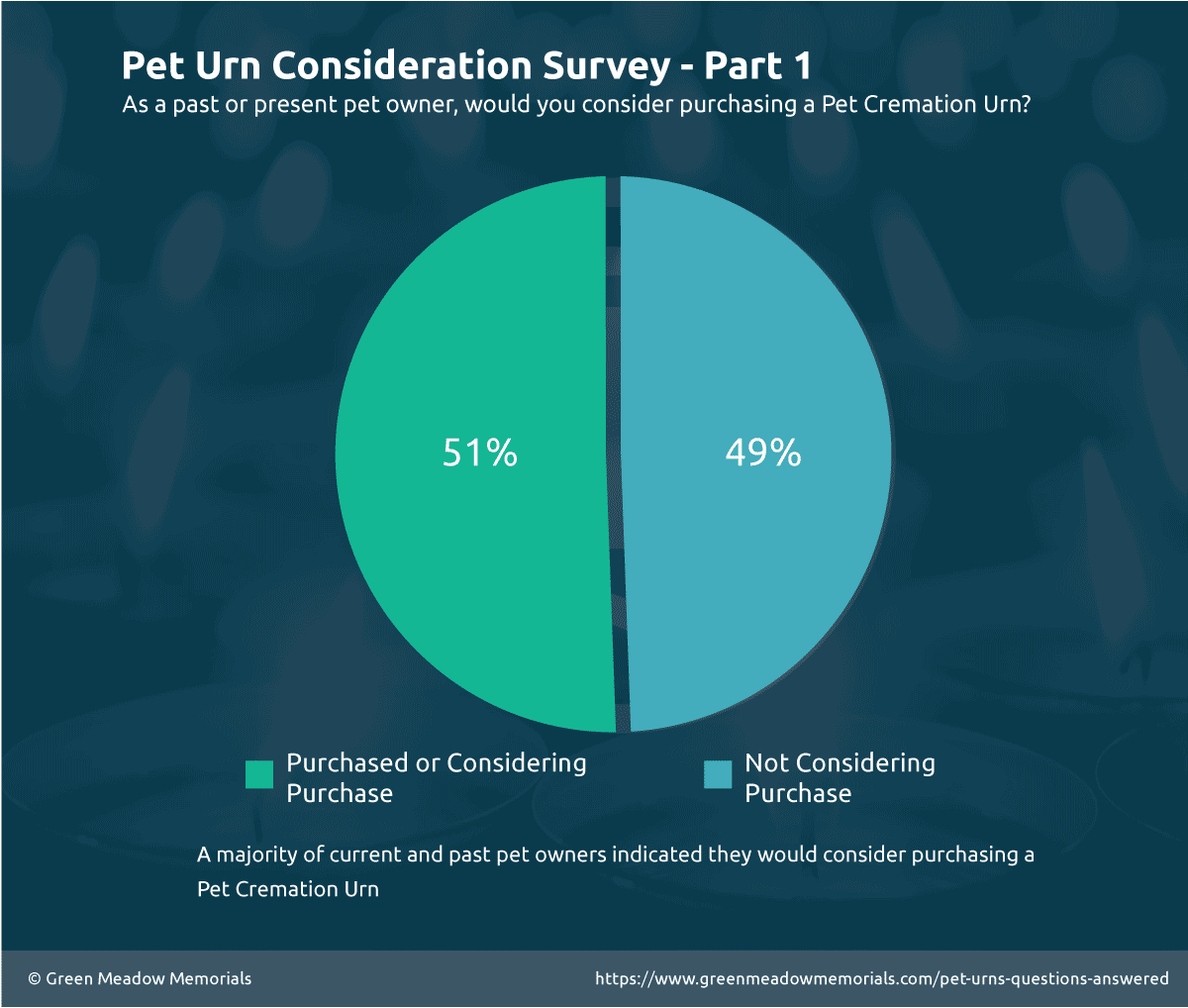 There are even more interesting insights as we take a further look into the responses from those who indicated that they had purchased or would consider purchasing an urn.  Those that had previously purchased an urn totaled 28% of the pet owners, with fully 75% of those (21% of the total) saying they would purchase an urn again.  This indicates that those who decided to buy a cremation urn for their pet were satisfied that they had done so and would therefore purchase a pet urn as needed again in the future.  Additionally, we learned that 23% of pet owners had not had a reason to buy a pet urn previously but would consider doing so for their current pets.  This tells us that there are many shoppers that have no experience with pet urns and that all sorts of related questions can be expected.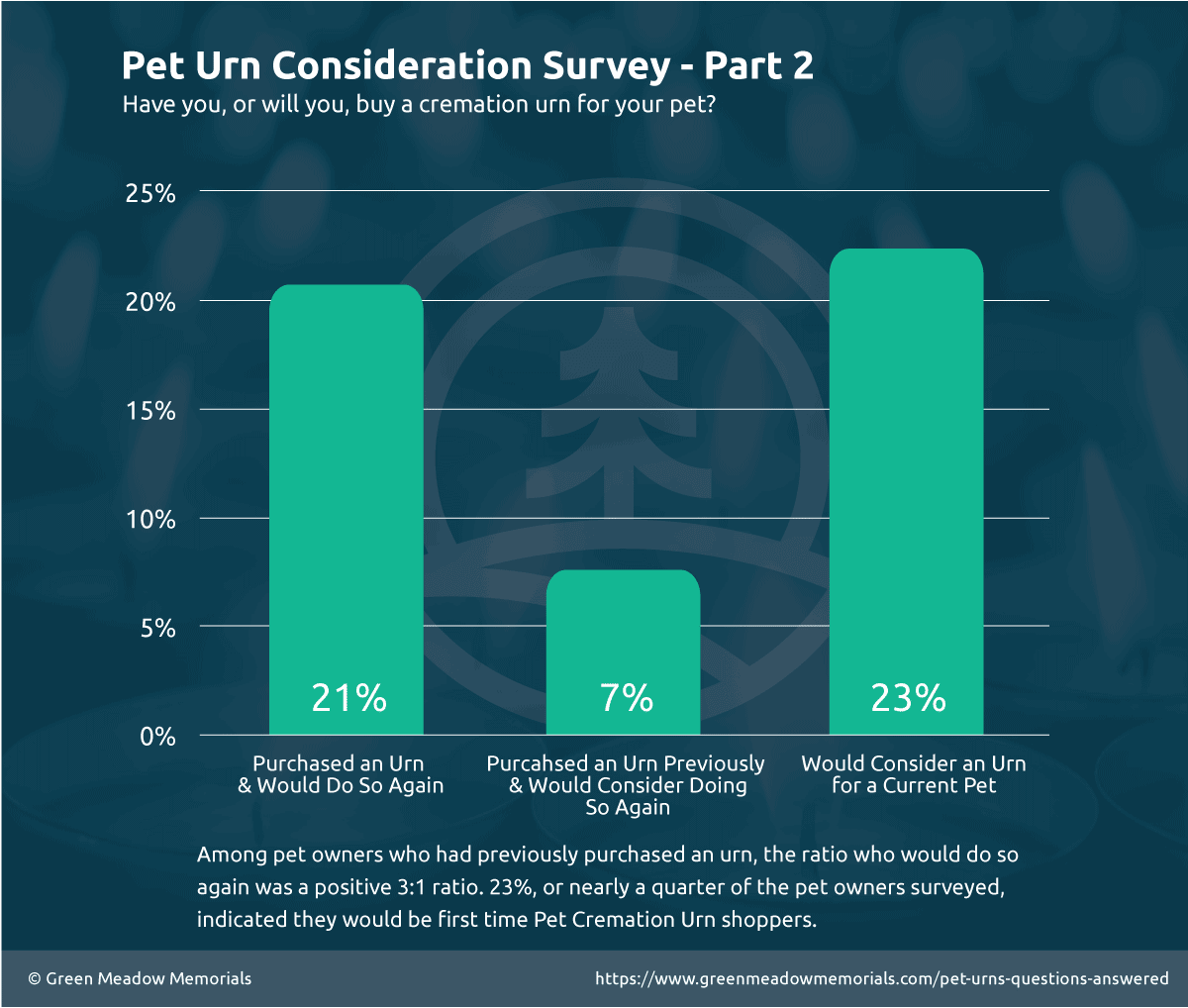 Which pet urn material to choose?
Pet urns can be made from nearly any material, but the most used materials are wood and metal.  Wood pet urns have a warm feel and all wooden pet for sale at Green Meadow Memorials are made in the USA.  Metal urns are sturdy and come in a wide array of colors, sizes and the engraving options are nearly limitless.
On my own small pet urn that I used for Leo (more about our journey below), I chose to have the lid engraved with at heart that was made up of paw prints.  On the front I put his name a bit of text of how we really remembered him.  I decided that the dates were not important for us to remember him fondly.
When it comes to engraving, we offer additional flexibility on our pet urns compared to a more guided process for people.  We have found that most people do not know the exact birthdate of their pet and so it is infrequently that a specific date of birth is engraved on the memorial.  We often have pet owners only put in a year for a date of birth and then a more specific passing date.  Just as often we see just years or that people opt to just use another line of text that is special to them.  Adding dates – or having no dates – are both options that create attractive and meaningful memorials.
Can pet ashes be scattered legally?
While we have written an extensive article about know your rights about ashes, that was really created with human ashes in mind.  There are not that many differences and many of the same themes apply.
On private property, your business is really your business.  On others private property if you have permission from the owner the same rules apply.
Discretion can be a key strategy.

No special urn is needed for spreading ashes.  Many people buy an urn prior to spreading the ashes to keep near until they are ready and serve as a memorial even after the ashes have been spread.
Why does Green Meadow Memorials offer pet urns?
Being a pet owner has so many benefits.  We have a friend and constant companion who takes as we are and loves us for simple reasons.  We get to give belly rubs, hugs, and loves to a family member that simply appreciates our time and attention.  Walks, laser dot chasing and all forms of play and shenanigans give us laughter and satisfaction.  These benefits outweigh the chores, the dealing with extra pet hair and expense of providing a safe environment for our pals.  That said, a pet lover and owner does carry burden of having to say goodbye to their furry charges.  I know because I have gone through this several times with beloved dogs and cats.  Most recently, my "crazy" cat Leo departed, and I had to figure out how to proceed.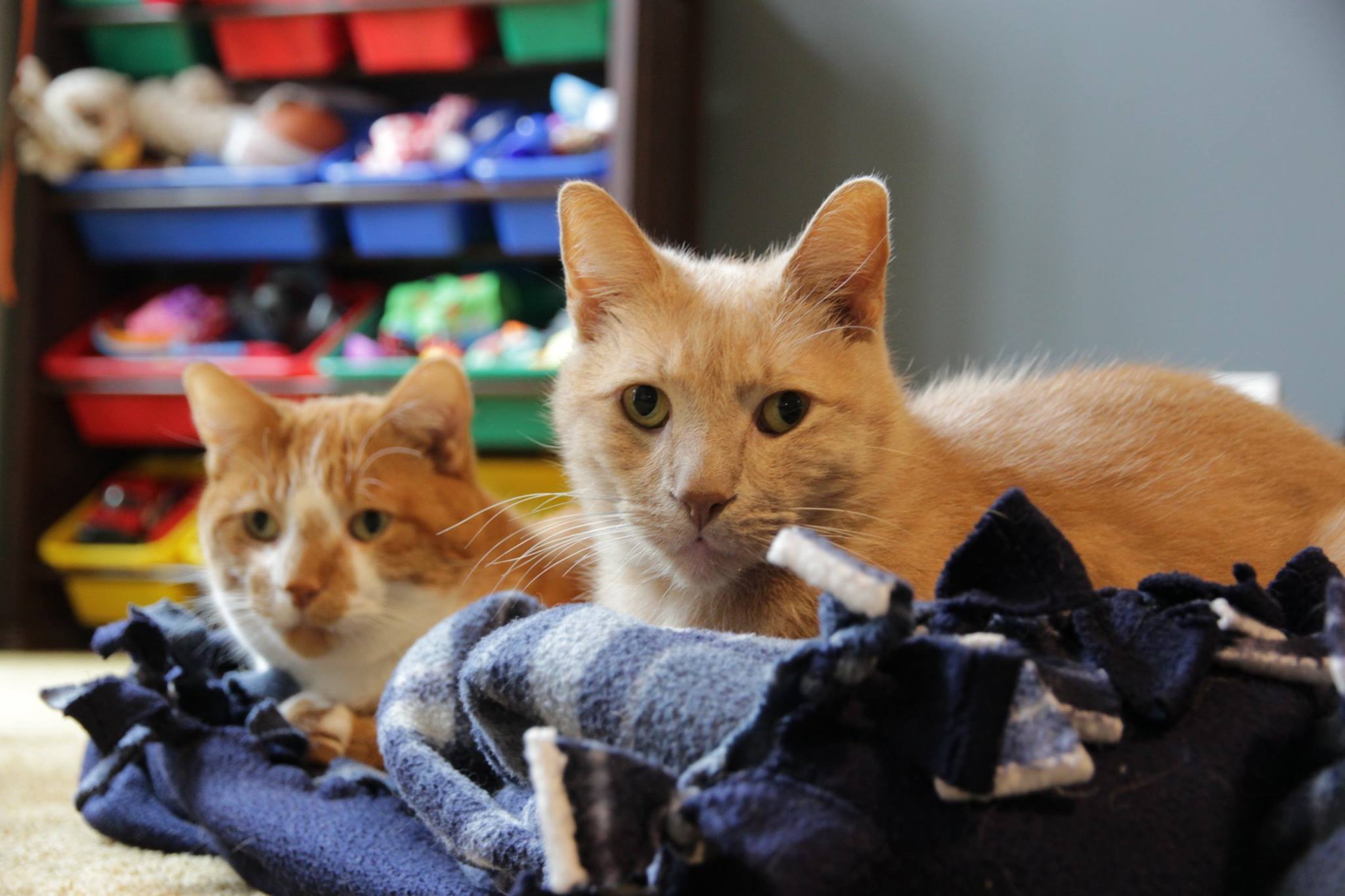 Leo (the beige kitty in the foreground of the picture) joined our family in 2010 and immediately bonded with his brother from an earlier litter and the first pet my wife and I shared, Bucky.  We often joked that Leo loved Bucky and Bucky loved us, but his affection while infrequent was genuine. He was intense, chattering at birds from his perch on the windowsill and always hitting partially open doors at top speed and without care of where he would end up when he was through the door.  Our boy adored Leo even if the cat preferred a little distance.  Leo had always had a few health peculiarities but one day it became extremely obvious that he was in distress in a way he had never been in before.  I took him to the emergency vet and the prognoses was sad, they proposed multiple surgeries that would cost thousands each that had a chance of success, but I knew what they were really saying, I could see it in their eyes and body language.  It was time to say goodbye. There were tears right away and later as a family as I came home with an empty pet carrier.
Before long I received Leos cremated remains in the mail and they were packed into a cardboard container.  I was still grieving, and half-heartedly looked at some pet urns, but I was not ready to choose and even being in the industry I did not find anything that really stood out to me. Green Meadow Memorials sells urns, so we decided it was time to make our own pet urns that met our own high-quality standards.  There are quite a few options in terms of designs and materials and range of prices to consider.  You are not alone in looking for more information on how to choose a Pet Cremation Urn.
Making your Own Pet Urn
Many times, memorials that are built with the hands that also passed on so much love to dearly departed pets are the most meaningful.  Ryan and I put our heads together to figure out the best way to answer this question and arrived at the answer - to work with a wood working professional and develop plans and how to guide of our very own.  We were are luck to have been able to work with Shara at Woodshop Diaries and develop the plans on how to build a DIY pet urn.
If you have any feedback about the directions or the video, please use the contact us link at the bottom of the page to let us know.  Additionally, if you do create your own memorial but desire a custom plaque to add to it, we've developed a full line of pet plaques as well.
Survey Methodology
We surveyed over 1,500 adults who are residents of the United States via an online survey in September 2020.  Questions on this survey asked respondents to indicate if they had purchased a pet urn, pets being considered cats or dogs for this survey.  Options included answering not pet owners, no with pets, yes with pets and would do so again, yes but uncertain, yes with pets but considering an urn.
Can this information be republished?
Any non-commercial or commercial website may use this information and graphics with proper attribution.  It is required that all use of this information be properly attributed to Green Meadow Memorials with a text back link to this specific page. All Fair Use references to this material should also include a text format so that this information can be viewed in context by readers.