How Much Do Cremation Urns Cost? 
Funeral planning involves numerous choices.  Once it has been decided that cremation is the path forward, choosing an actual cremation urn becomes a central question.  It is just as important as choosing a casket and headstone, as an urn serves the roll of both.  Knowing what a fair price is becomes a large part of the process.  It is important to note that the cost of the urn will depend on its size, material, and origin. 

Deciding to buy an urn online reveals a world of possibilities that can seem overwhelming.  Keeping the search simple, and more importantly within your budget, can ensure you find the best possible cremation urn without over investing your time.  Knowing what size urn or urns you need to buy is especially important. 
Cremation Urn Price Ranges at a Glance 
Cardboard or basic plastic: $15 to $25
Wood Urns: $25 to $300
Metal Urns: $60 to $300
Keepsake Urns: $10 to $200
Cremation Jewelry Keepsakes: $15 to $1,000+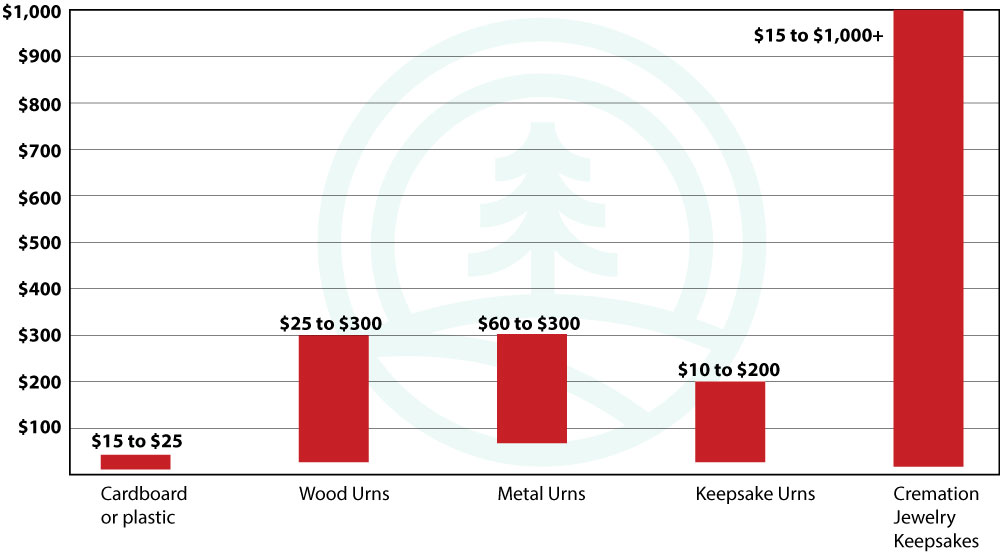 Cremation Urn Prices in Detail 
Urns made from cardboard or plastic are likely to be included with the cremation of your loved one, but if purchased separately can cost between $10 and $25.  Urns made from wood can start as low as $25, and generally cost up $300.  Metal urns, typically made from aluminum or brass, start around $60 and can also cost up $300.  Keepsake Urns that look like miniature cremation urns start under $10 and can cost up to $200.  Jewelry that holds a small amount of ashes typically starts around $15 for pieces of acceptable quality and can be found in gold and platinum starting around $600 and going up into the many thousands of dollars.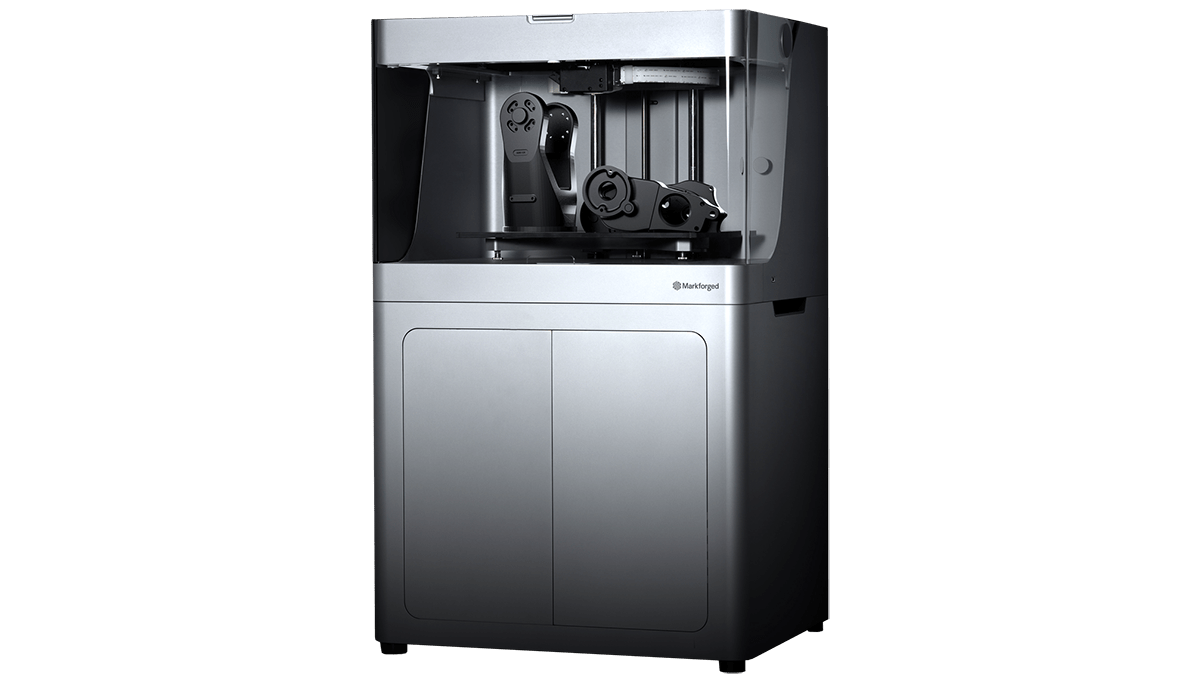 When it comes to completely custom urns, the sky is the limit.  3D printed urns and works of art made from a variety of materials from plastic to brass to glass can start at $1,000 and quickly cost more than $10,000.  In death, much as in life, there are very specialized and expensive options for those who are not burdened with a budget.  For most people, these extravagant offerings are not realistic considerations.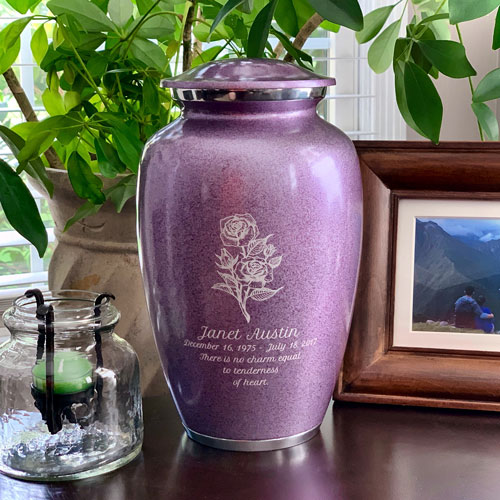 The cost of engraving is an aspect of budgeting to buy a cremation urn that is often overlooked.  Many online retailers try very hard to offer the lowest prices possible on the urns themselves and then make their profits with engravings.  It is not unusual to find that the cost of engraving doubles the price of the urn!  Urn engraving typically starts around $15 and can add up to as much as $90 to the final cost.  Engraving is considered critical by many as it is key to identifying who is in the urn after it has been closed or sealed. 
If you have a small budget and want to keep some remains close, one option is to use a keepsake cremation urn.  A keepsake is a small urn that holds a small but meaningful amount of ashes, and the remaining ashes can be dispersed in a place that holds special meaning.  Because keepsakes hold just a small portion of ashes, they are also commonly used for holding the ashes of infants and small children.  Keepsakes are much less expensive than full size urns.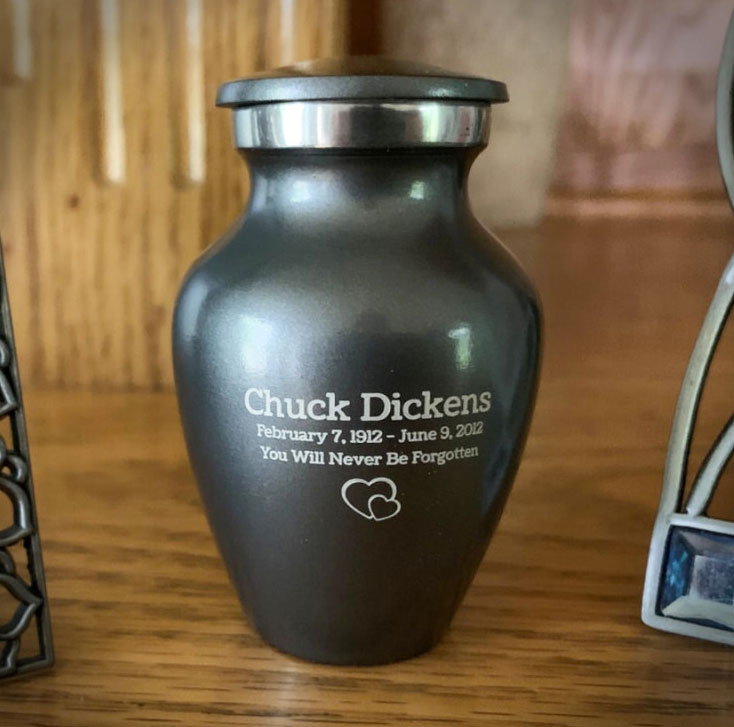 The price of engraving a keepsake is often similar in price to a full-size adult urn.   Much of the cost of engraving is the time it takes a professional to setup, prepare the urn for engraving, and then the engraving process itself.  The most common use of a keepsake urn is to allow several family members or close friends to have a memorial that holds a small portion of their loved one's ashes. 
Memorial and cremation jewelry are additional options that work well for a lower budget.  Cremation jewelry is designed to hold a small amount of ashes.  It can help you keep your loved one close or share the memorial with family or very close friends.  These pieces can be engraved as well, so be sure to allow anywhere from $10 to $40 per piece for engraving.  Another unexpected cost with cremation jewelry can be the additional cost of quality chains.  If you are intending for the jewelry to be worn, a quality chain upgrade is a must as most of the pieces available come with very low-cost chains that are of dubious durability.   
Burying or Displaying in the Home Cost Impacts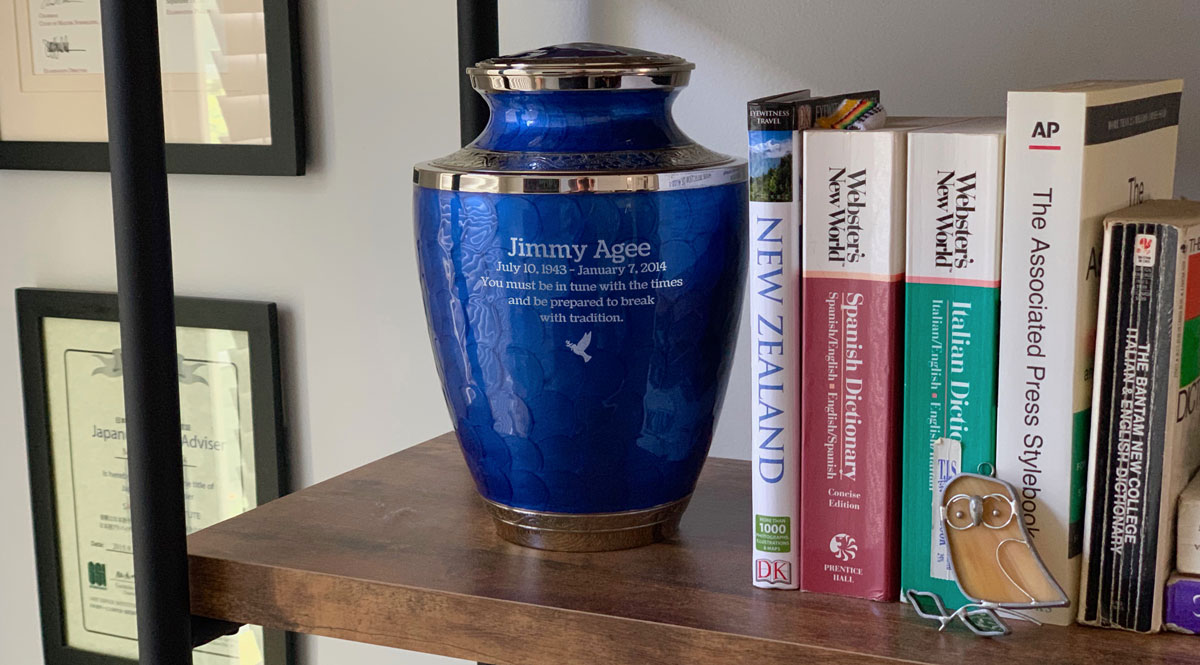 Further consideration should be given if the urn is going to be kept in the home or if it is going to be buried.  Cemeteries have their own varied requirements that you will need to research before choosing your urn.  They may require either a crush proof urn or a container called an urn vault.  Urn vaults provide a second protective structure for the cremation urn so that the heavy weight of the ground and groundskeeping equipment will not eventually cause the urn to fail.   
Whether or not this would ever happen, cemeteries can set these types of requirements.  Vaults and urns start around $100 and can near a $1,000 depending on materials, engravings, and other choices that can contribute to their cost.  Depending on the cremation urn that is chosen, this requirement can double the cost of the cremation items that are purchased. 
Other "Green" Materials 
Biodegradable urns are a choice too.  These urns are usually made of materials like bark that have been dyed and molded into a certain shape, like Paper Mache.  These urns start around $80 and can cost up to $500.  One thing to consider, if being green is truly a goal, these urns have a significant carbon overhead in their shipping and transport.  Simply placing remains into a paper bag for burial or spreading ashes over the surface of the intended area are viable options, and both alternate methods are better for the environment and easier on your budget. 
Shopping Online Saves Money, Provides More Options, Grants Engraving Options 
Most crematories and funeral homes will have a limited number of urns to sell.  Typically, prices are much higher, choices are minimal, and there may be limited or engraving options that can be used to ensure that future generations know who is in the urn.  These factors are great reasons to buy an urn online.