How to Make a DIY Cremation Urn
When a loved one passes and is cremated, you have to decide where is the best place for their body to rest in the years to come. There are many options for types and styles of urns. Green Meadow Memorials supplies various types of beautiful urns, but they also understand that sometimes due to financial reasons OR just simply because people may want a more personal touch, some families may choose to make their own wooden urn for their loved one.
So today, I'm sharing with you how to make your own simple wooden urn with just three tools and a standard 1x8 board.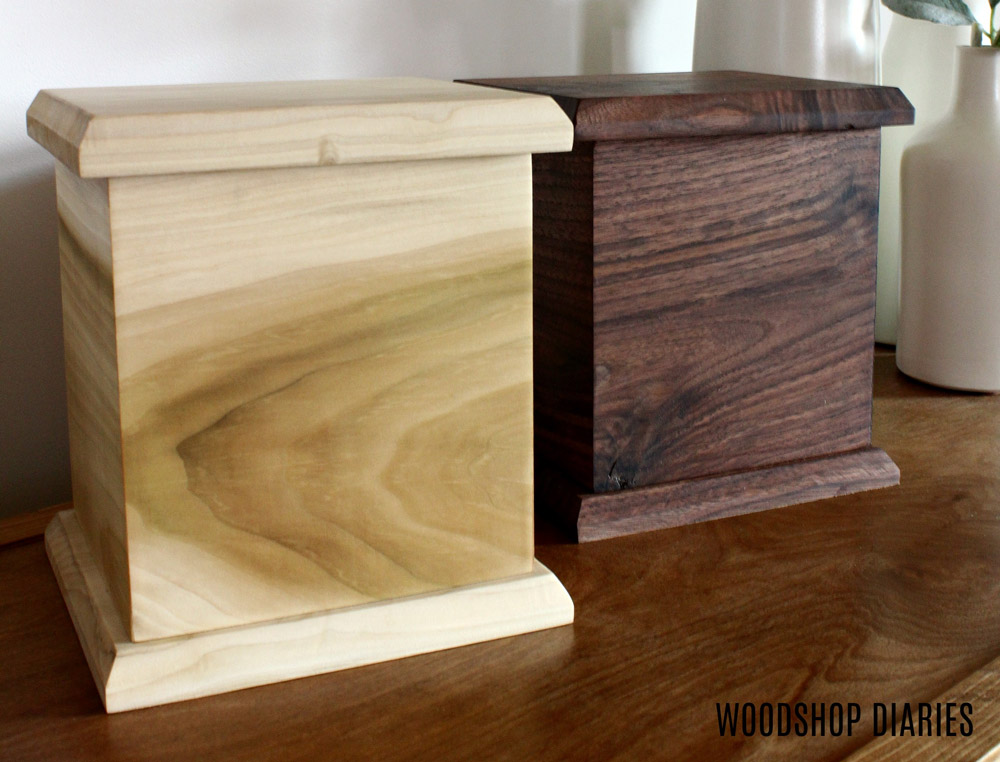 Once the urn is completed, you can leave as is, but Green Meadow Memorials has created a personalized plate to put onto this specific urn based on its dimensions. This plate option allows you to personalize your DIY urn with a name, date, or sentiment in several different finishes.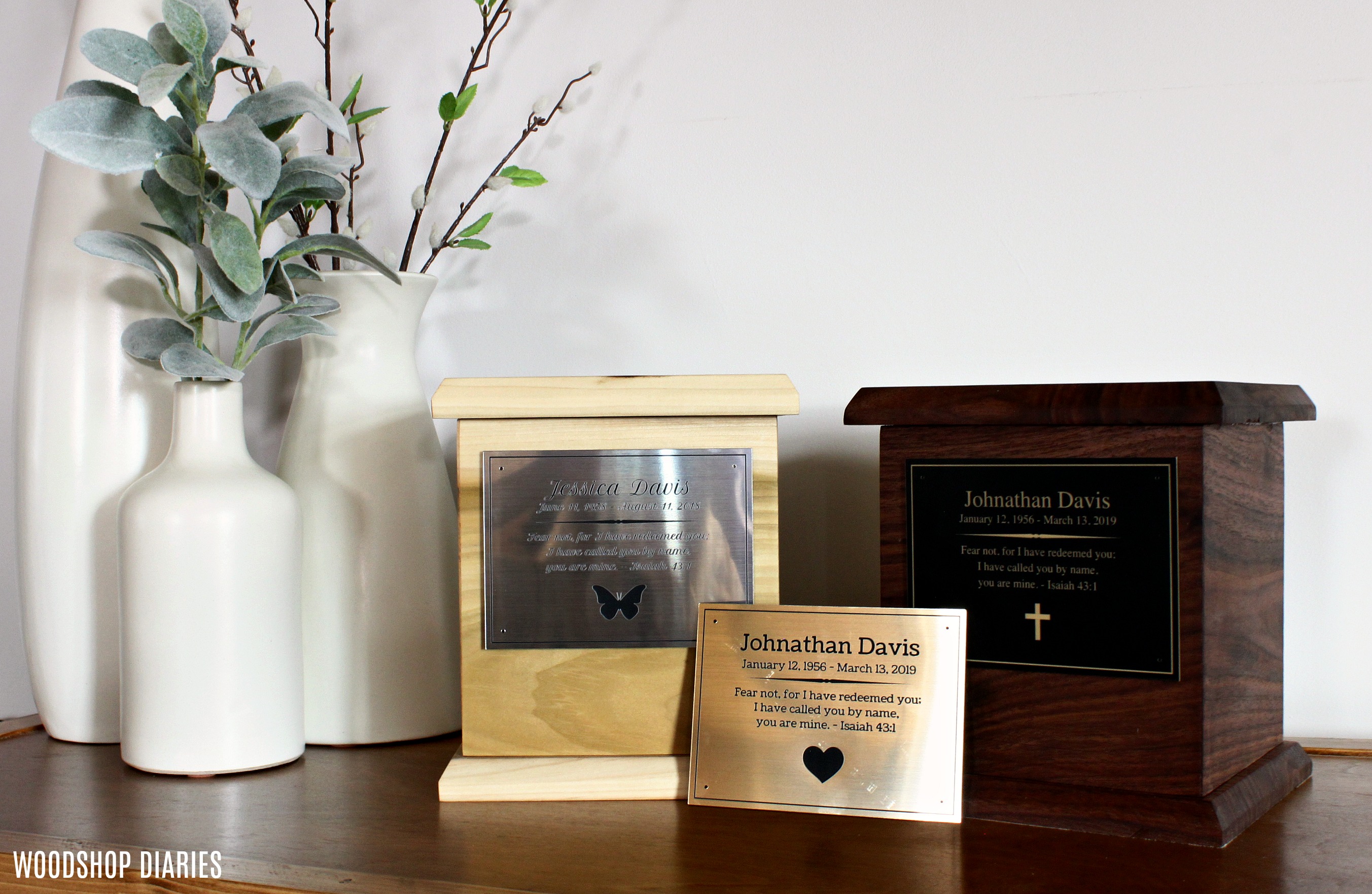 Now, for the how-to.
For a project like this, I recommend using a good quality hardwood. But those can sometimes be pricey. In this project, I'm using a standard 1x8 poplar board from the Home Depot. You can purchase 4 ft of this board for a little under $15. However, if you have access to a local hardwood store, you may can find some other hardwood options like walnut or even oak or cherry and have them surface it for you for about the same price.
Besides the 4 ft long 1x8 board, all you need to complete this project is:
Miter saw
Router
Drill
Wood Glue
Painter's Tape
Sandpaper
Clamps (optional)
Sander (optional)
You can find the step by step written tutorial below as well as a video tutorial here:
Best Selling Cremation Urns
Step 1: Cut Pieces to Create Wooden Urn Box
To get started, I brought my 4 ft 1x8 board to the miter saw and checked that my miter was square to the back fence. Then, I set my saw's bevel to 45 degrees. It's important to keep these cuts square with a bevel of exactly 45 degrees.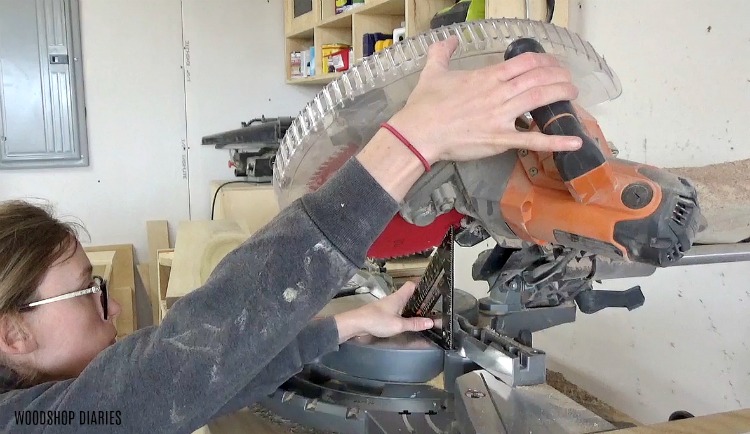 Then I trimmed off the edge of the board to give me my first 45 degree beveled edge. I measured off this long edge 6 ¾" and cut making sure my bevel was NOT parallel to the first bevel—they should be in opposite directions. You can see the whole process in the video above.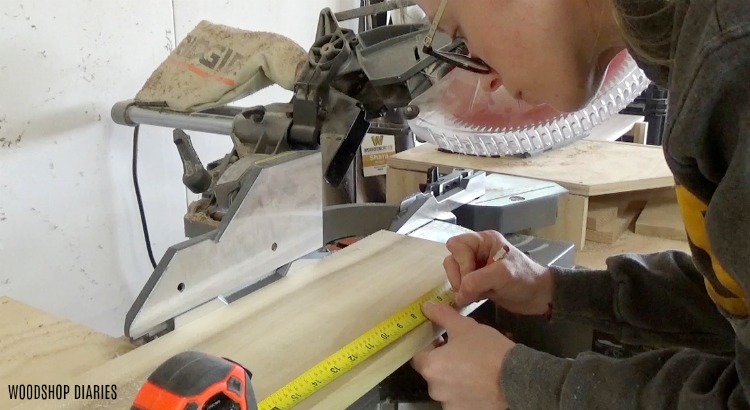 To make a continuous grain pattern around the box, after the first piece was cut to 6 ¾" long, I flipped the board over and trimmed the edge again before measuring and cutting my next piece. This way, the outside of the urn box will all be the same side of the board making a continuous grain. I did this for all my cuts.
For my second piece, I cut 6 ¼" long. Here's a diagram to show how to make the cuts for a continuous grain design.

Then, I repeated this to make two more pieces, one 6 ¾" and one 6 ¼" just like shown above.
Step 2: Glue Up Wooden Urn Box
So now I had two 6 ¼" pieces and two 6 ¾" pieces. I dry fit them together to make sure the corners lined up. The two shorter pieces will be opposite each other and the two longer pieces will be opposite each other to make this box nice and square.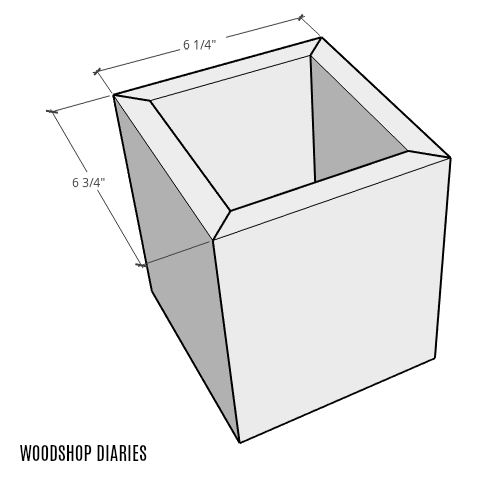 Then I laid them out upside down alternating sizes and making sure the grain matched up. I placed them so that sides were touching and applied painters tape along the joints.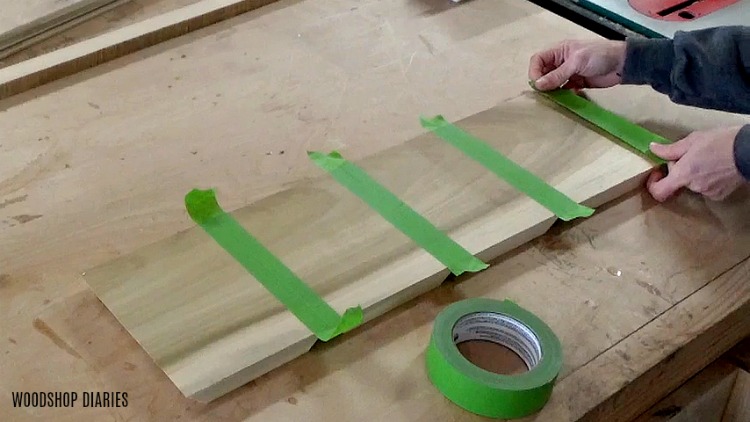 Then I flipped it over and applied more tape to the inside joints like shown to help prevent glue from getting all over the inside corners of the box during glue up.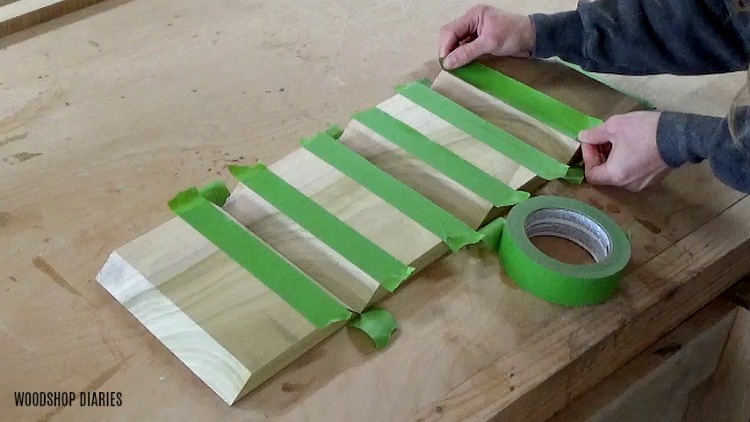 I applied wood glue to the joints and taped the box up at the corners making sure to keep everything lined up well at the corners.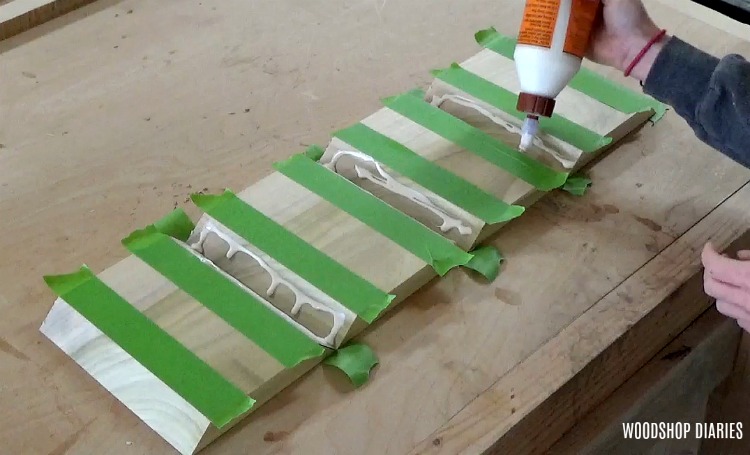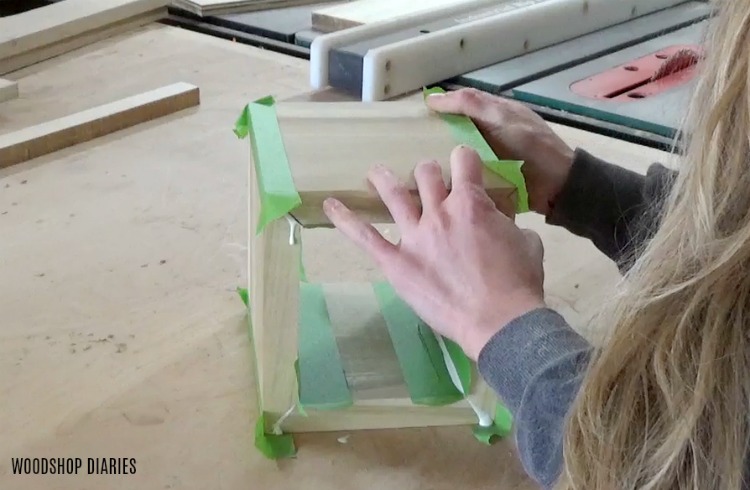 If you have some clamps—or even a ratchet strap—it may help to keep the corners nice and tight if you clamp this box tight while the glue dries. Wipe away excess glue squeeze out with a rag or old t-shirt.
Step 3: Cut Wooden Urn Top and Bottom Pieces
While I let the glue dry, adjusted my miter saw bevel back to 90 degrees and cut two pieces of 1x8 to 7 ¾". I installed a 30 degree chamfer bit into my router and adjusted the depth so that it would route about 3/8" deep onto the edge of these boards. Then I clamped these pieces to the workbench and routed the edges along the top sides.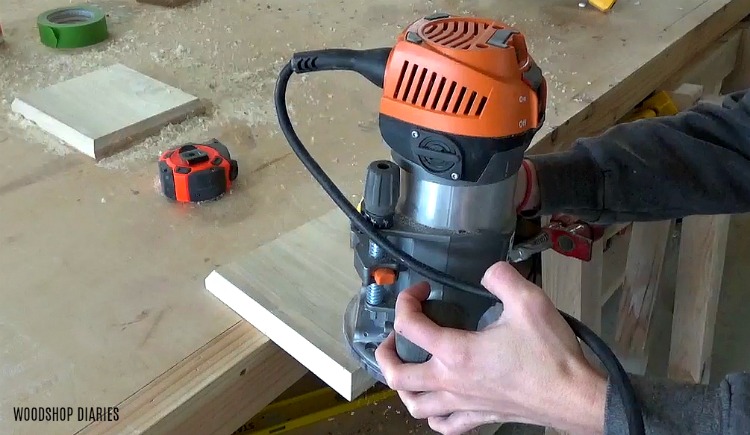 This routing step is totally optional. You could leave the board edges square if you don't have a router OR you could also cut this by adjusting the bevel of your miter saw to 30 degrees and trimming this chamfer. However, the router gives more consistent results vs the miter saw.

Step 4: Attach Urn Top
Once these edges were routed, I waited for the glue to dry on the box completely, then removed the tape and sanded all the pieces well.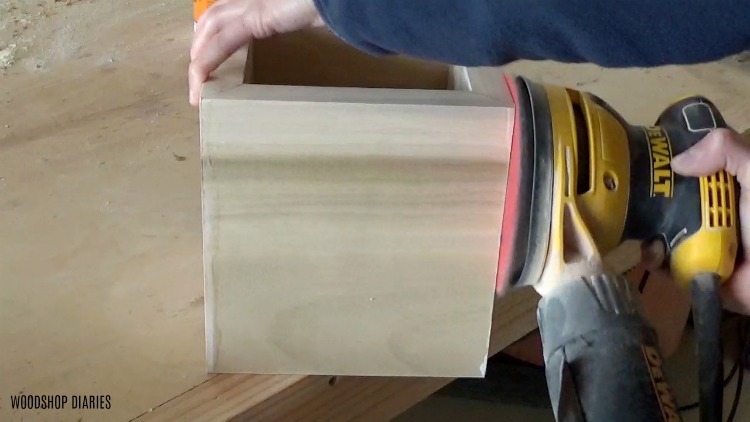 A sander is really helpful for this step, but you can also hand sand these pieces if you don't have a sander. The main thing here is to sand to remove any excess glue squeezed out during the glue process.
Another key part of this project is getting the miter joints tight. Sometimes miter joints are tricky. So if there are any small gaps in the corners, I like to apply a little wood glue along the joints, smearing it into any cracks or gaps. Then I sand while the glue is still wet. This allows the wet glue to mix with a little sawdust and creates kind of a matching wood putty that fills in the gaps.
Once everything was well sanded, I applied wood glue along the top of the box and centered one of the 7 ¾" boards on it like shown.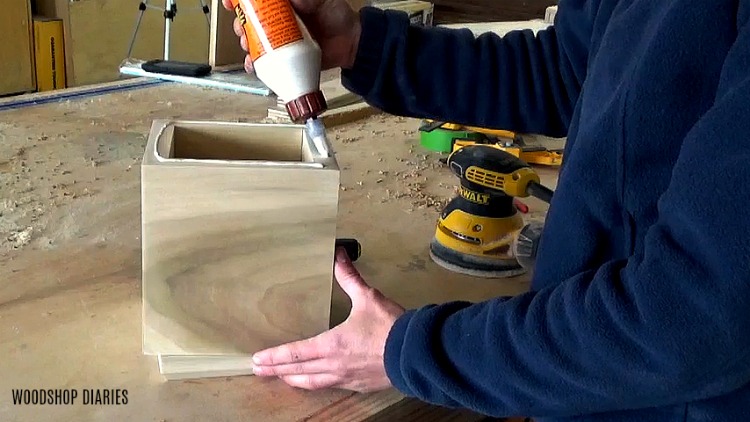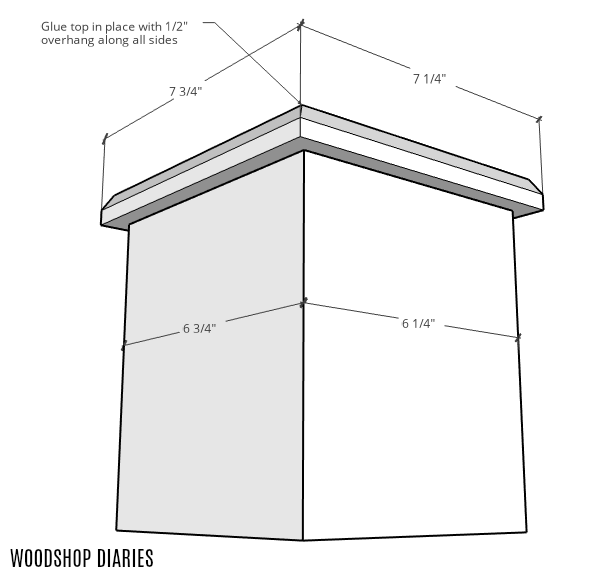 If you have clamps you can clamp this in place until the glue dries. Or, if you have a heavy object you can place on top, that would work as well.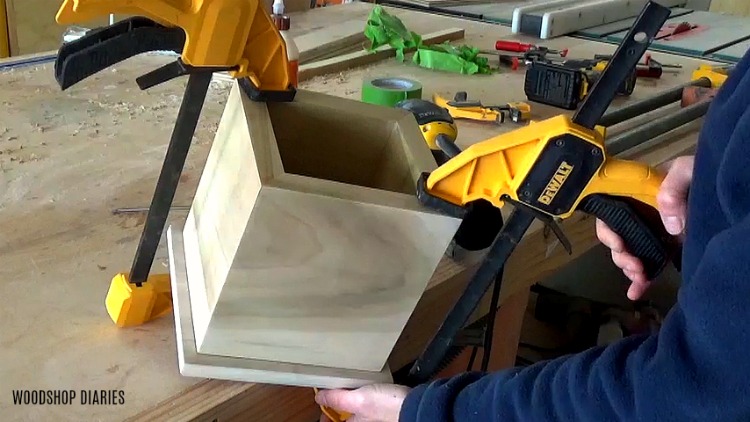 Step 5: Finish and Attach Bottom
Once the glue was dry, I gave the top box and the bottom piece a coat of finish. I used a simple beeswax to keep the natural poplar color, but you can finish with a clear coat, stain or a wax of your choice.
Once the finish was dry, I flipped the urn upside down and centered the bottom on the box. I predrilled four holes along the sides like shown.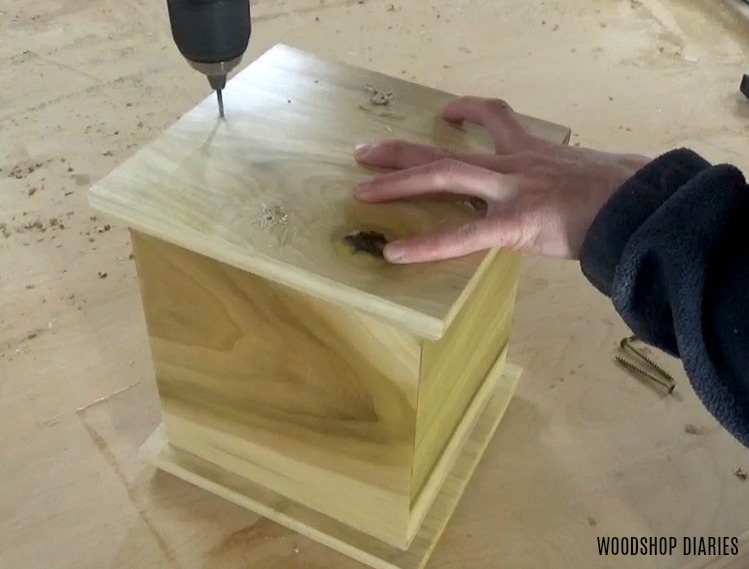 Then I attached the bottom with 2" wood screws through these holes.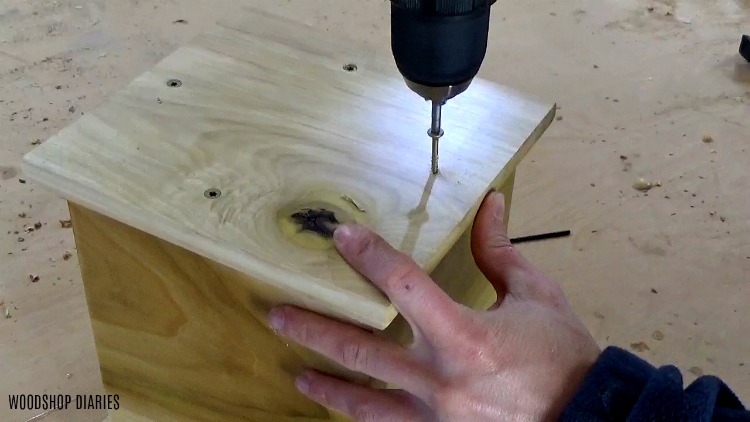 Wooden urns are designed so that the bottom piece is screwed in place and can be removed to place the ashes, then put back on.
Once the urn is completed, you can leave as is. But, as previously mentioned, Green Meadow Memorials has an option for a personalized engraved plate to put onto this specific urn based on its dimensions.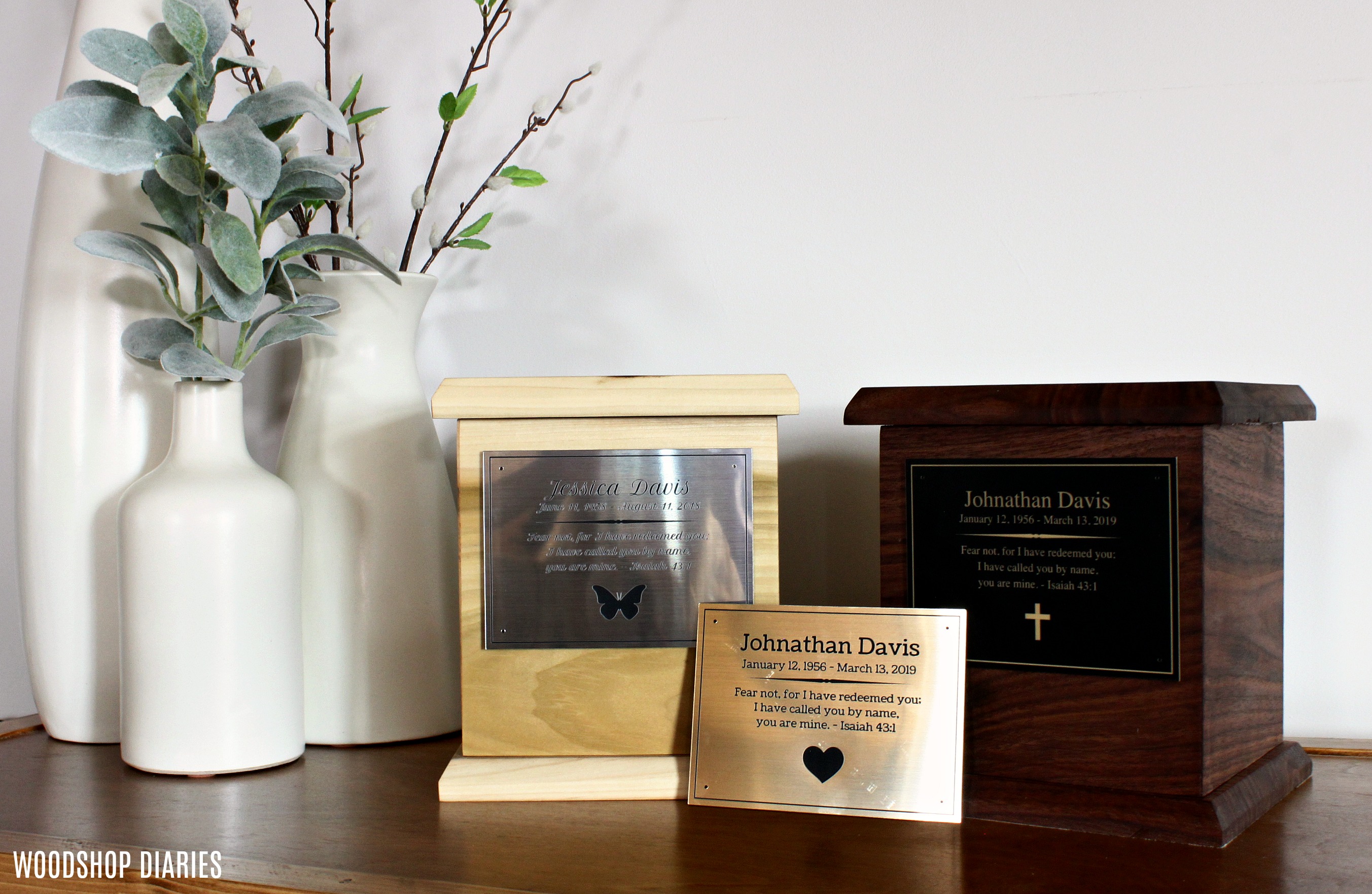 These plates come in the finishes shown above and are easily installed with the included finish nails. Simply center the plate where you'd like and lightly hammer the included nails through the predrilled holes in the corners. View their engraved plate and plaques.
A wooden urn doesn't have to be complicated to make on your own. With just a few common tools and a standard size board, you can honor your passed loved one with a DIY wooden urn made with hands that loved them.