Customer Gallery
Pictures are powerful.  So much can be conveyed with a single picture that might otherwise take paragraphs of text to explain. 
Our order fulfillment process includes a photo taken of every cremation urn and memorial we create.  We do this so every order can be compared to the finished product once it has been engraved by a fresh set of eyes.  This keeps errors at an absolute minimum and ensures that every order is completed to our high-quality standards.  Any time after your order has shipped you can request to receive a copy of this image.  Each day we internally process and approve images of touching and beautiful memorials. 
One request we kept hearing from visitors is their desire to have the ability to see examples of completed memorials.  As many people are first time shoppers for cremation urns, seeing real examples can provide the inspiration and confidence to make an educated choice for their loved one.  The question was, how can we achieve showing more pictures with each listing in a meaningful way? 
Late in 2019 we decided to try something novel – asking shoppers during checkout if we could show a picture of their memorials to help other shoppers in the future.  We were blown away at how many people were willing to opt-in to this effort, and we immediately started working on the foundation of sharing these images.  The image you see below is the result of our custom development efforts.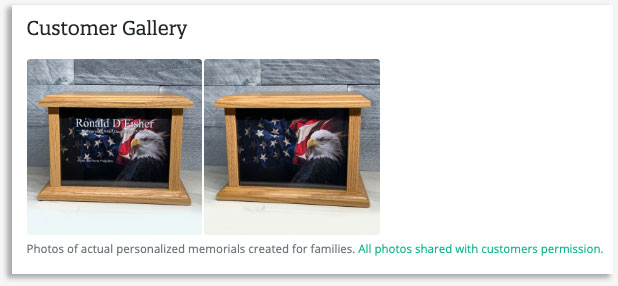 It is our hope that this will provide the confidence in our products, service, and site technology that every customer deserves when visiting Green Meadow Memorials.  Additionally, we hope that it will serve as inspiration for those who are searching for the right words or artwork to memorialize their loved one.  With our opt-in process we only show a fraction of the beautiful memorials that are created in our workshop, but much of the work we are most proud of can be found in the customer galleries of each product. 
We only use these images publicly when granted your permission on a per order basis.  In the Shopping Cart view, you will see a check box that allows us to share the completed memorial pictures of that order.  Checking this box allows us to assist each person who comes to our site looking for the right memorial for their loved one. 

In every situation where we are displaying completed memorials when we have obtained permission to do so.  We use these images respectfully and the specifics are detailed in our Terms of Use.  This permission can be revoked by the customer at any time.  See our Contact Us page to send us a message if you would like to do so. 
If you are currently considering to opt-in to sharing your loved one's memorial images with other potential customers, we sincerely hope that you will help other shoppers and check the box.  With this action, you are helping others who are processing and dealing with grief and loss. 
We are so thankful to everyone who has opted to share the images of their completed memorial.  As the cliché goes, a picture is worth a thousand words and it helps other shoppers so much.  Thank you.